About Us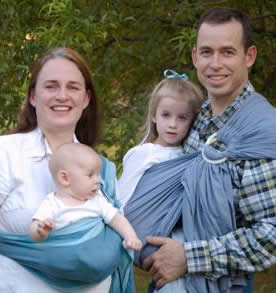 Paul is a plastics engineer and inventor. I, Rochelle, am a chemical engineer. Together we are parents to 5 children. In 2001 I wanted to make a sling from some sentimental fabric already in the closet. But I couldn't find rings like those on my sling. When I started looking online, I met others who were also looking for a source for rings. Paul had long desired to find a product to make with his familiar plastics machinery, and a niche was found. So we understand parents. We understand wanting to be able to "do it yourself". And we understand WAHM's and starting a micro-business, and the pains involved in helping it grow. Our goal is to help you, however we can, wherever you are on that continuum. Together we can make slings available to all parents, helping parents to raise attached, loving, confident children.
We are members of ASTM and are actively working on creating the first standard to specifically address sling style baby carriers. Meetings are held twice yearly in Philadelphia. We welcome your suggestions and take our role as your advocates very seriously. We are determined to develop a standard that will provide for a safe product, and will also allow for microbusinesses and WAHM's to stay competitive.
SlingRings is aware of and compliant with the CPSIA legislation passed by the US Congress in the summer of 2009. We are working urgently to stay on top of the rule-making involved with this legislation and actively pass that information along to our customers. Our rings are lead and phthalate free. Please ask if you need a copy of our GCC, or an explanation of our marking/tracking codes.
We know that buying online can be a nerve wracking experience. If our rings do not meet your expectations, please let us know! You can call us at 888-369-3509. We are anxious to work with you, and your satisfaction is 100% guaranteed.
To help us serve as many sling makers as quickly and well as possible, we have added to our team.

Tina is a mother of 5 and grandma of one.
She will help you with email questions and billing.
She sports a fantastic pink and orange sling with her little granddaughter.

Audrey is a mother of 8 and grandma of 9.
She will help you with phone questions and packs all the orders for shipments.
She is also hard at work on another endeavor.
Each and every ring that leaves our facility is strength tested on specially designed equipment.
SlingRings are made from aluminum 6061 and are lead free. They are anodized in a RoHS compliant process. They are also safe for people with nickel allergies.
Aluminum and nylon SlingRings are made in Laveen, Arizona. We don't have a storefront, but we love to hear from local customers!