"Baby wearing"
is an ancient idea that is still practiced around the world. Most cultures acknowledge that the most comfortable, safe, natural place for a new baby to be is snuggled next to its mother. Here the warmth and noises of the womb continue.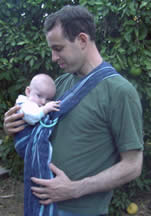 Snuggled up high, a baby has a great view of the world, more opportunities to interact with people, and much more ability to communicate. This actually leads to happier babies. Babies who are carried in this fashion are much less fussy. It can be the only thing that comforts some colicky babies.
Wearing your baby, as opposed to carrying your baby, gives you back the use of your hands for your daily activities. It also saves strain on your arms and back. Slings and other baby carriers are much more portable and easy to store than strollers and plastic seat style infant carriers. Sad as it seems to mention it, it's also much more difficult to steal a child that's being worn by a parent.
There are many ways to wear a baby. There are a variety of traditional methods, still used around the world. These include the mexican rebozo, korean podegi, african kanga, chinese mei tai and japanese onbuhimo. All of these carriers are tied on in some fashion. Recent variations on these include pouches, slings without rings, slings with rings, and westernized padded mei tais. More constructed carriers include the various backpack type carriers. Some of these are of soft fabric construction and others are more like hiking packs, with metal tubing, hip support straps, etc.
You can find much more information about wearing your baby at the following highly recommended links:
http://groups.yahoo.com/group/babywearing
http://www.thebabywearer.com
http://www.geocities.com/babycarrierlinks
There has been recent publishing activity regarding the babywearing phenomenon. Check out the following new books:
BabyWearing by Maria Blois, MD
http://www.thrivingbabies.com
Dance With Me-A Children's Picture Book by Elizabeth Johnston